Introducing Adaptive Human Capital: A personal journey, a personal commitment
Posted Jul 17, 2019 by Rick
Over the last 30+ years, I have had the good fortune to have been involved in a number of high-profile change initiatives in both the public and private sector clients at my former firm - specialized change management and talent development consulting firm, Maher & Maher. For a relatively small firm, we were fortunate to have had multiple high-profile engagements!
Following the sale of Maher & Maher to IMPAQ, LLC. of Columbia, Maryland late last year, I was determined to continue to make a difference in the world of managing change. While I continue to support IMPAQ/Maher as a member of their Advisory Board and in selected consulting capacities (they are a great Firm with an even greater future ahead of them), the specific subject of helping people through change continues, for me, to be a personal passion.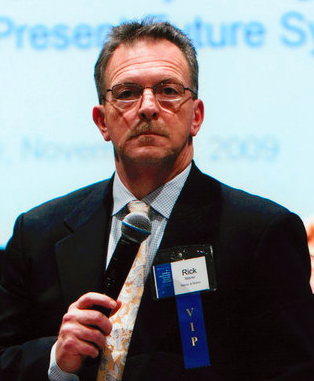 So today I'm announcing the formation of Adaptive Human Capital, LLC. A new consulting firm that will focus on the development of more #adaptive_humans in the U.S. workforce.
So, what exactly is Adaptive Human Capital and how do we expect to help create more #adaptivehumans?
The idea of helping humans adapt more effectively is really the product of my life's work (as a change management practitioner) and my study of Industrial-Organizational Psychology. Over my years as a change professional, I have witnessed resistance to change in organizations large and small, public and private. I watched that resistance slow change initiatives and, at times, cause them to fail altogether.
Why, I wondered, does one person tend to embrace change enthusiastically, while another might resist the smallest shifts in the status quo?
My research on individual and organizational resiliency revealed measurable traits – both in individuals and in organizational culture – which, taken together, could be predictive of workforce resistance to change. Moreover, these same traits are both measurable, and trainable.
We are not born resistant to change, and we can learn to be more adaptive! More importantly, business leaders can shape a more adaptive and nimble culture and, particularly in this time of chronic and constant changes in the business landscape, they should.
Adaptive Human Capital, therefore, will offer assessment and training tools, and supporting consulting and coaching solutions to help to measure organizational agility, and help individuals to be more adaptive to workplace changes. The outcomes will include more productive and positive workplaces, less stress for workers, and better business results.
Soon we'll be releasing introductory videos explaining our approach to measuring individual and organizational resiliency, and then an Individual Resiliency Preview©. These tools will be free, and we'd invite your engagement as a method of introducing our work and advancing our research. You can sign up for the FREE PREVIEW ASSESSMENT here and be notified when it comes online.
Creating more #adaptive_humans has been my life's work. Through Adaptive Human Capital, I hope to make it more accessible and impactful. My hope and desire is to make America more agile – our individuals, our organizations and our communities – and as we do, allow us to better compete and win in a new, incredibly demanding global economy.
Stay tuned for more and please consider engaging with us on this journey to develop more #adaptive_humans!
Adaptive Human Capital applies the science of Industrial-Organizational Psychology to developing more adaptive human systems – at the individual, organizational and societal levels. In today's global economy, organizations must move at the pace of change. We use proven, research-based approaches to helping people better manage change and foster a more open and risk-tolerant culture in the organizations we serve.